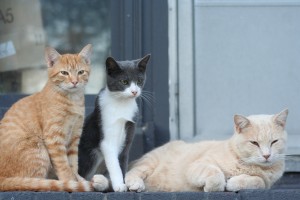 A few words about my current digs and cosmic April Fool's pranks…
Still Life in Grottyshire
Next time around I will live by water,
and not some little bourgeois town
the burgh in a Hesse novel,
bark mulch capital of the world.
Not like Grottyshire,
my bohemian island, surrounded
by pious faces sweeping gravel
from their grass, their driveways, and the streets
lining their cut-out-cookie houses.
Grottyshire, my tangled mass of unkempt
gardens where weeds and flowers
intermix and cavort with impunity,
and paint peels, no matter how
many times we scrape away the
old bits, like dead skin,
brushing on fresh color.
Grottyshire, where rainbows arc
over the pines and
English mint chases dreams of empire,
colonizing iris and lilies
but not lavender, sage or monkshood,
these lovlies, I painstakingly rescue.
I hang offerings in the spirit wood,
chimes and glass, little things
with meaning, make alters of fallen trees
work, surrounded by a glaring of cats.
Sometimes it feels like they
are the only ones who understand.
Next time around, I will live by water.
For now, I will not mar the view with curtains,
or wonder what possessed me to rebuild
this ridiculous ark, this Grottyshire cottage,
as I watch another car stopped on the alley
staring at the red lights glowing in my windows.